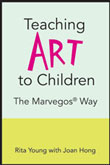 Teaching Art to Children: The Marvegos Way
The first chapter starts with our philosophy of exercising creativity and how to foster the innate creativity within every child. Each following chapter covers our approach to teaching art to specific age groups corresponding to our three levels of classes.
Our Artists Learn to Exhibit
Exhibiting is part of the artistic experience. Students learn the importance of presenting their artwork, from providing a title to speaking about their art through an interview process.
Then we exhibit all the pieces in a formal exhibit at our studio every June. It's the highlight of the year.