Fine Art Fundamentals
Structured as a developmental program spanning four sessions during one school year, students build upon what they learn from session to session and from year to year. Each session is devoted to a particular media, beginning with drawing, then watercolor, mixed media and, finally, acrylic painting. Our small class size (7:1 student/teacher ratio) and program planning ensure continuity of instruction and nurture individual student development in fine art. Students enjoy the challenges and joys of creating 'original' works of art while developing observation and problem solving skills.
There is a one-time, pre-requisite Online Form Class each student who is just starting Fine Art Fundamentals must complete by the third week of classes. This virtual class teaches students about form and introduces students to our optional sketching homework assignments. Sign up for the Online Form Class.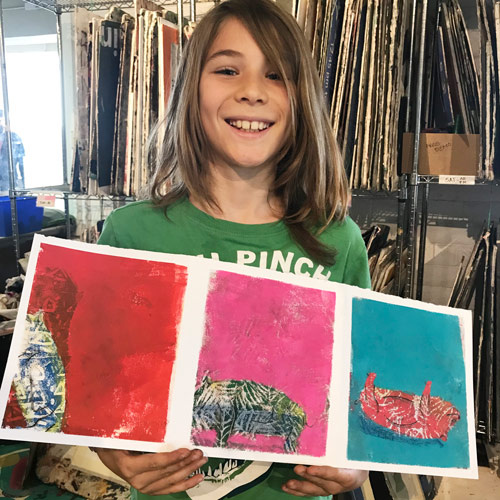 "I like Marvegos because I can be myself, be free, have fun . . . and be creative. You don't say draw a line here or draw a dot there. You let me make my own choices.."
– Anatoli, 10

Annual Student Exhibit
An annual exhibition of original art by students is held as a culmination to a year of dedicated study in fine art.  Students who complete the school year's curriculum by beginning in September and ending at the end of the school year qualify to participate in this annual exhibit.
Many students choose to be interviewed on camera by our staff about the piece they chose to exhibit and the inspiration behind it.