Summer Art Camps & Classes
Summer art camps allow students to pursue one area of art in some detail or explore new areas. Our kids' art program provides a rich variety of art-making opportunities for students age 4 ½ – 18 and includes art for preschoolers, fine art camps, teen camps, workshops and classes.
Summer Camps – Full Week
Our summer art camps allow kids to explore the full variety of art media from drawing still lifes and landscape painting to sculpting with wood and clay or mixed media. The atmosphere is relaxed, fun and social, allowing kids to pursue their own creative bent and focus on a single project to completion. Many students register for multiple weeks and never get bored because the projects vary every week. Above all, they can take the time to develop their own confidence in art making through the consistent exercise of creativity. In addition, we offer extended care.
Full Day Camp
Full day camps from 9 AM to 3 PM are offered for kids ages 7-11. The daily activity schedule includes four full hours of art making and 2 hours of other activities with snack and lunch provided by parents. Projects will vary from week to week.
Morning Camp
Morning camps from 9 AM to 12 PM are offered for kids ages 4-9. The daily activity schedule includes two full hours of art making and an hour for snacks (provided by parent) and other fun activities. Projects will vary from week to week.
Afternoon Camp
Afternoon camps from 1 PM to 4 PM are offered for kids ages 4-7. The daily activity schedule includes two full hours of art making and an hour for snacks (provided by parent) and other fun activities. Projects will vary from week to week.
Teen Camp
Full day camp and morning camp are offered for teens ages 12-17. A mix of self-directed and instructor-directed art-making will include works on paper and a sculpture with breaks taken at the student's discretion. New projects may be developed from week to week.
Summer Session – 1 day per week
One day per week art classes throughout summer offer students an experience similar to that of our school year program. For instance, a child could continue with Art Exploration or chose to advance to Fine Art Fundamentals as a trial to see how they might like it. Above all, as teachers and students we cherish the relaxed summer atmosphere and use it as a springboard for creativity.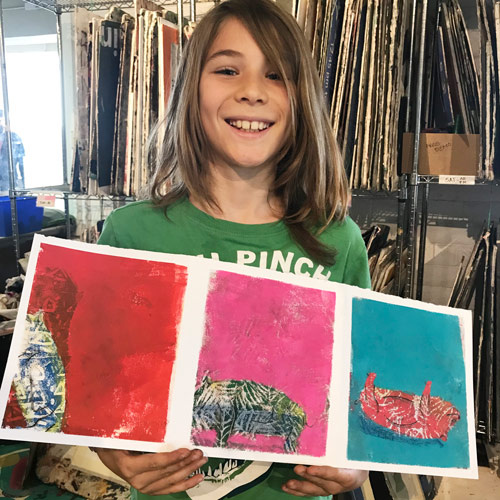 "I like Marvegos because I can be myself, be free, have fun… and be creative. You don't say draw a line here or draw a dot there. You let me make my own choices.."
– Anatoli, 10
"Love it!!!! My son and daughter had a great time at Marvegos summer camp. They had been at the camp for three weeks and kept asking to go to Marvegos."
– Chenchen, Parent
"My son loves it. The teachers are not only great artists themselves, but have the abilities to engage young minds. I like their approach of letting the kids expand and experiment and yet teach some basic terms and art fundamentals."
– Yiyi, Parent
"It was the highlight of my son's week! We'll be back for summer camp and school sessions again next year."
– Sarah, Parent
Summer Policies and FAQ
Visit Health & Safety FAQ.
Advance registrations will be refunded in full if the student withdraws a month or more before the class or camp begins. A $25 processing fee will be charged for any refunds granted less than one month prior to the camp or class. Refunds of 50% will be made for cancellations made less than a week before the start of the class or camp. Any desired changes in registration must be requested at least one week prior to the start of the class or camp to avoid penalty.
No credit for missed classes.
Extended care options are available for purchase, including a 5-day discounted extended care fee for both school break camps and summer camps. To purchase extended care after registering for camps, look through your list of upcoming programs in Account, select "view Cart" for the camp you'd like to add extended care to, then 'Edit' the program to add on the extended care needed under 'Extras.' Extended care can be added up until the Thursday prior to the start of camp. If extended care needs to be added after the Thursday prior, please contact your studio manager for availability. Extended care added on after Thursday is not guaranteed without confirmation from a studio manager.
A 10% discount is available on week-long camp and class registrations made one month or more prior to start of program. No discounts on extended care or 1 day per week summer session.
Online registration for a particular week of camp can be made up to Thursday the week before. To register after Thursday for the upcoming week, email your studio manager.
All camps and classes are subject to minimum enrollment numbers. Refunds will be issued for any camp or class cancelled by The Marvegos.