Art Exploration
(Ages 4 ½ – 7)
Our approach to art making for preschoolers and younger kids is age appropriate and fun. Students learn the concepts used in fine art through a hands-on, interactive contemporary teaching method. The goal of our Art Exploration program is to build self confidence by empowering children to make their own creative choices. A student/teacher ratio of 7:1 is maintained to best facilitate this process. Students may remain in our Art Exploration classes for 4 years without repeating projects and content.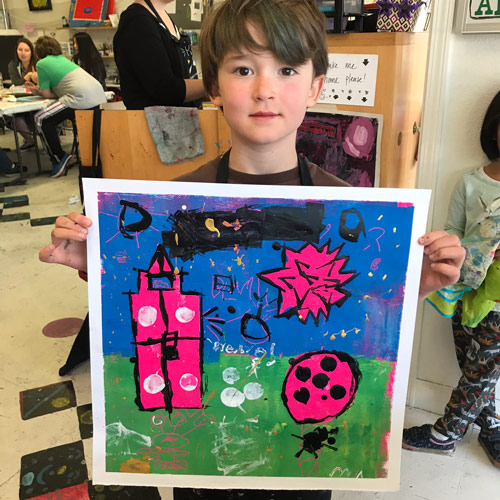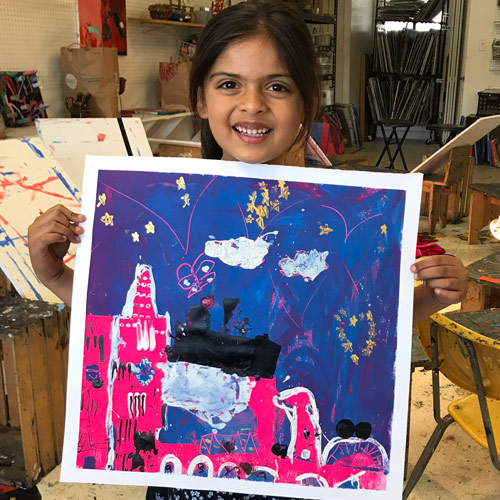 "Roses are red,
Waters in a pool.
Vilites are blue,
The teachers are so cool."

– Skyler, 6
"I love art class. Learning new ways to make colors, to paint. I like the new ways we can make stuff. First I think of stuff in my imagination. If I like it I draw it."

– Asya, 6
Annual Student Exhibit
Our school year curriculum is divided into four sessions, featuring weekly classes lasting an hour. New students may join at any time by contacting the studio manager.
Students attending all four sessions of the school year qualify to participate in our annual student exhibit in June. Children paint the floor on the day of the exhibit which is always the highlight of the year, second only to showing off their own art, framed for all to view.