Advanced Exploration
(Ages 11+)
This program is designed to develop self-directed art makers. The students design their own projects with the guidance of their teacher. Learning to exercise creativity is all about the choices students make designing their projects and implementing their own ideas. Our small class size (6:1 student/teacher ratio) enables students to develop rapport and trust with the teacher who can guide them in the discovery of their own fine art talents. As a result, Advanced Exploration classes often lead to communities of advanced artists who inspire each other creatively.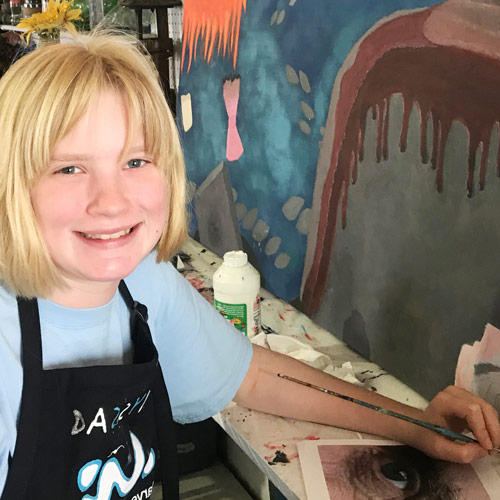 "This is my favorite class. In other classes you're told exactly what to do. You have to do things exactly like everyone else. Here you have things you can make on your own. Here you can do your own unique thing. It lets you get things out of your head."
– Alyssa, 14
Annual Student Exhibit
An annual exhibition of original art by students is held as a culmination to a year of dedicated study in fine art.  Students who complete the school year's curriculum taking all of the school year sessions qualify to participate in this annual exhibit.
Our Advanced Exploration students often take this class with the stated plan to produce a favorite piece just for this exhibit. Many of our advanced students choose to be interviewed on camera by our staff about the piece they chose to exhibit and the concept behind it.